Hardy Owners Club Magazine
The print version of the Hardy Owners Club magazine is published three times a year and is posted to all current Members of the Club.
In addition there are currently 135 back issues - with a searchable index of contents - of the Hardy Owners Club magazine available for logged in HOC Members to download as Adobe Acrobat Document pdf files.
Recent HOC magazine issues included ...
Spring 2021 • No 142
Editor: Marie O'Connell - Searching the HOC Website Archive - Shipwrites (letters) - Hardy Owners at Last! (Hardy 36) - Insurance Advice - Bon Voyage Korina! (Hardy 32DS) - Upgrading your Hardy name plate - Yard News from Hardy Marine/Cockwells - Hardy 40th Anniversary Retrospective part 2 - Birth of the Hardy Owners Club - The Early Hardy Owner magazine - Cruising the Sound of Jura (Bosun) - New Headlining for Cockle (21MS) - Life in Lockdown #3 (Hardy 36) - Restoring Hardy 25 Albonita - Bells, Gongs & Flags
New Year 2021 • No 141
HOC 40th Annniversary Retrospective, Part 1 - Remembering Colin Mudie - Our Favourite Anchorage aboard 40DS Attitude - Solving Corrosion aboard Commodore 36 Blue Horizon - Restoring MS21 Odd Sox - Whistle Signals Refresher - Hardy 20SE explores Dorset - Landlubber to Seadog - New Pup Bonnie aboard Commander 32 Sovereign Star - Hardy 25 Lady Helen lheads back to Norfolk Broads - Navigator Osprey Broads Cruise - Yard News including Cockwellls 25th/HOC 40th Anniversary Combined Rally, plus work on hybrid diesel/electric Hardy 42 - updates & introductions from Hardy Owners - Treasurers Report - Marine Market & More ...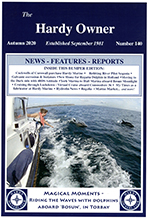 Autumn 2020 • No 140
Editor Marie O'Connell - Editor's Foreword - Membership Matters -Cockwells of Cornwall purchase Hardy Marine - Refitting River Pilot Sequoia - Galvanic corrosion & Isolators - New Home for Regatta Dolphin in Holland - Moving to the Dard side with 40DS Attitude - York Marina to Hull Marina aboard Bosun Moonlight - Cruising through Lockdown - Virtual Cruise aboard Commodore 36 - My Times as a fabricator at Hardy Marine _ Hydrofin News - Marine Market... and more!
'
We would remind you that in accordance with our terms and conditions these magazines and their contents are the copyright of the Hardy Owners Club and apart from perusal by Hardy Owners Club Members they must not be copied in whole or part, or used for any other purpose or in other way, without authorisation by the Hardy Owners Club Editor.