HOC
OWNERS 2017 REGALIA
Click on the images to open larger pictures
---
MUSTO PRODUCTS
---
New 2017 Musto Regalia

Unfortunately, all the 2016 Musto products we had negotiated to be available to HOC members have been discontinued by the company.

Rather than selecting new products from their catalogue on behalf of HOC members, we have arranged with Musto that HOC members can view the 2017 catalogue themselves (www. musto.com) and select their item of choice and order from the HOC Regalia Manager .

Once an item is chosen, if members contact the Regalia Manager with their selection, we will contact Musto to negotiate an HOC discount and also arrange for the HOC logo to be embroidered onto the item (material permitting - not all items can be embroidered).

We hope this will offer a good compromise to HOC members, so they can choose the item they really like, and get a good deal on the price.
In order to benefit from this discount, ORDERS MUST BE MADE THROUGH THE HOC, NOT DIRECTLY WITH MUSTO.
---
HOC REGALIA
All Supplied with the New HOC Logo and your boat name
---
HARDY OWNERS CLUB T-SHIRT



A simple white t-shirt printed with the new HOC logo, either big, bold & central as in the example shown, or choose a smaller logo over the heart. Simple, cheerful & practical. No embroidery or boat names, just the HOC with pride.

Sizes S, M, L, XL, XXL, XXXL £8.00 + 1.75 p+p


---
NEW HOC BURGEE WITH THE NEW HOC LOGO





At last the new burgee is here. An absolute must for the proud Hardy Owner. Fly it with pride.
£14.00 + £1.75 p+p
---

REVERSIBLE GILET - Unisex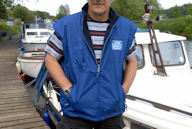 Reversible gilet/body warmer: showerproof and windproof on the Royal blue side, and when reversed, a snug navy blue fleece. It has three good size zip pockets, and a high neck for those windy days at sea.
It can be ordered with the HOC logo just on the shower proof surface if you prefer to keep the fleece side plain for other occasions, or it can be embroidered both sides. Available in sizes S, M, L, XL, XXL.

£27.50 + £4.00 p+p with one logo and the name of your boat or
£32.00 + £4.00 p+p with two logos and the name of your boat.

---
SWEATSHIRT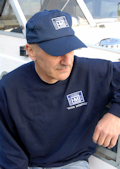 A top quality Fruit of the Loom sweatshirt, with raglan or set-in sleeve design (specify preference).

Colours: raglan sleeve available in black, heather grey, French navy, deep navy (darker than French navy), royal blue, sky blue, classic red, burgundy, bottle green, emerald green, purple, graphite or white.

Set-in sleeve available in black, grey, light oxford, classic red, bright royal, steel blue, navy, pure gold, classic red, khaki, and white.

Stitching in the colour of your choice. If no choice stated, will be white on colour background, or navy on white.
Sizes S, M, L, XL.
£20.00 + £3.00 p+p
---
POLO SHIRT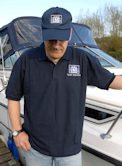 The classic polo shirt embroidered with your boat name and the club logo.

Colours: choose from black, French navy, royal blue, sky blue, bright red, classic red, burgundy, purple, yellow, bottle green, emerald green, graphite or white.
Stitching in the colour of your choice. If no choice stated, will be white on colour background, or navy on white.
Sizes S, M, L, XL. £15.00 + £3.00 p+p


---
FLEECE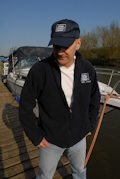 Warm yet light, the club fleece is equally suited to indoors and out. Embroidered with your boat name and the club logo. Available as a quarter zip pullover or full zip jacket.

Colours: Black, French navy, royal blue, classic red, burgundy, purple, yellow, bottle green, or convoy grey. Stitching in the colour of your choice. If no choice stated, will be white on colour background.
Sizes S, M, L, XL. £30.00 + £4.00 p+p
---
BASEBALL CAP


One size fits all. Embroidered with your boat name and the club logo.

Colour: Available in a dizzying array of colours - black, white, natural (off-white), olive, lime green, Kelly green, bottle green, emerald green, surf blue (turquoise-y), royal blue, sky blue, navy blue, purple, classic pink, fuschia, burgundy, classic red, orange, yellow, pebble (sandy), storm grey, and chestnut. Stitching in the colour of your choice. £11.00 + £1.75 p+p